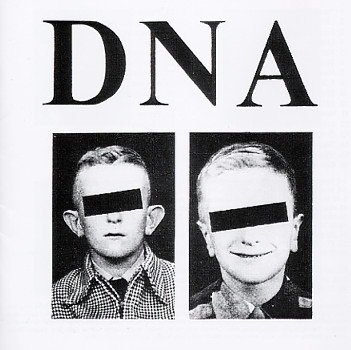 "DNA was a No Wave band formed in 1978 by guitarist Arto Lindsay and keyboardist Robin Crutchfield. Rather than playing their instruments in a traditional manner, they instead focused on making unique and unusual sounds. Their music was described as spare, noisy, and angular and was compared to some of Captain Beefheart's output and even to Anton Webern.
DNA originally consisted of Lindsay, Crutchfield, Gordon Stevenson, and Mirielle Cervenka, and took their name from a song by another no wave band, Mars. Stevenson went on to play bass for Teenage Jesus and the Jerks; Cervenka was the younger sister of Exene Cervenka of X. This incarnation of the band was very brief, not playing even one concert. After the rapid departure of Stevenson and Cervenka, Lindsay and Crutchfield hastily recruited Ikue Mori—who at the time had little command of English and no drum set—to be DNA's drummer.
This lineup of DNA played occasionally at CBGB and Max's Kansas City and recorded one 7" single. Within their first year, they had cemented their reputation as a paradigmatic no wave band when Brian Eno selected them as one of the four groups documented on the No New York LP, the first recording to expose no wave groups to an audience outside of lower Manhattan. The other three bands appearing on this album were The Contortions, Teenage Jesus and the Jerks, and Mars."
(content exerpt from
http://en.wikipedia.org/wiki/DNA_(band)